You haven't created any blog designer shortcode.
February 2023 Newsletter
What will the Groundhog say this year??
Winter or Spring?
Winter Store Hours
Tuesday         10 AM – 4 PM
Wednesday      10 AM – 4 PM
Thursday        10 AM – 4 PM
Saturday       10 AM – 2PM
You can now follow us on:
Instagram @ yarns.wilmington
Facebook @ Yarns of Wilmington
Needlepoint News!!
Kate Dickerson is in the House!!
20% off Trunk Show Canvases
Come Check out her Bright-colored Fishnet animals, Florals, Bricks, Belts,
Ornaments, Planet Earth inserts, Game boards and more.
~
New in Threads and Accessories
 Painter's Threads (a Metallic Variegated) – Neon colors in Bella Lusso
Treenway Eyelash
Burmilana (an acrylic wool available to order)
 3 " Table Magnifiers with Pouch
New pastels in Kreinik as well as some Micro-Chenille Coming Soon!
~ 
Stop by and Check out some NEW canvases in Stock!
Tina Griffin Coasters, Veuve Floral Champagne Bottles, Kelly Clark Easter Eggs
NEW Alice Peterson Stockings Too!!
Blue and White Ginger Jars are Back in Stock!
~
Upcoming Needlepoint Trunk Shows for 2023
April – Painted Pony – Stitch-Painted Show (will include Angels)
May 13th – June 3rd  -Susan Roberts / Liz Dillon
June – Melissa Shirley (This Show will be Virtual – more details will follow)
June – Trish Vine Designs – Canvas Keepers and Organizers
August – Kelly Clark with Embellishments
October – Canvasworks
November – Blue Ridge Stitchery
All Canvases will be 20% OFF while that show is in town!
We have started New Class Lists!!
Let us know if you're interested!
Stitch Class with Joe M.   
Ready to venture out of your Basketweave Comfort Zone?
Would you like to add at least 3-5 new stitches to your repertoire. 
Wednesday, February 22nd
10 am to 12 noon
$85 per person – 13 ct Canvas provided – just bring some of your stash thread, needle and scissors!
Finishing Class with Margaret Q.
Bring a completed ornament canvas to class and learn to finish as a Hanging Ornament.  
Classes are
FULL
for Saturday, February 18th and Wednesday, March 15th.
We do have a
Waiting List
going if you are interested for the next class.
Finishing Class Price is $125 per person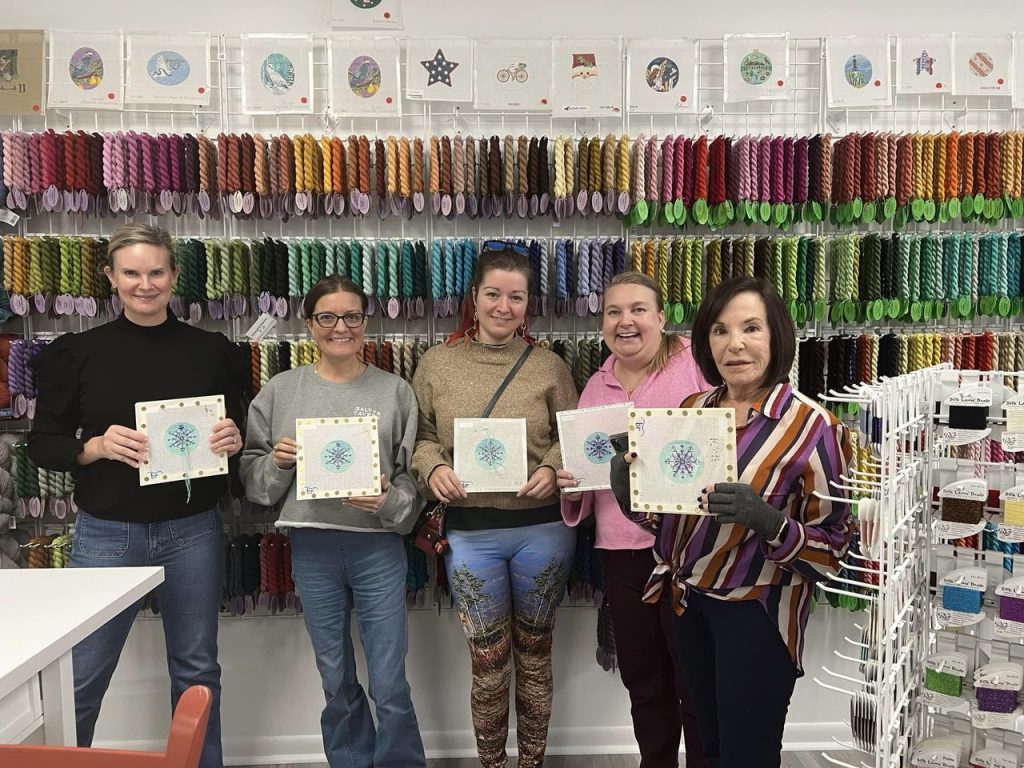 Thank you to Megan@ Strawberry Needlepoint for a wonderful Saturday Beading Class!
If you are interested in learning Beading or a Silk Ribbon Class with Megan – Let us know! 
We have new lists going for both classes!  Dates to follow!
Call us @ (910) 791-2157 
Email: yarns@yarnsofwilmington.com for more information.
Knitting Open Houses!!
Mary Lee will be in-house to answer your knitting questions….


Wednesday, March 1st from 1 PM – 3 PM
~
February Knitting Class Schedule
These Wednesday Classes will be held at YOW.
Teacher:  Mary Lee Fields



February 1st, 2023

–   Pattern and Yarn Band Reading – 4 Spots Left     
$35 per person from 1 PM – 2:30 PM
February 8th, 2023

–  Error Correction – 2 Spots Left
Correct stitch types and pick up dropped stitches etc.
$35 per person from 1 PM – 2:30 PM
February 15th, 2023

–  Baby Hat Class – FULL
Learn the art of using 4 Double Point Needles. 
Pattern will be provided.
 $40 per person  from 1 PM – 3 PM
February 22nd, 2023

–  Intarsia – Learn to change colors of yarn. 4 Spots Left
$35 per person  from 1 PM – 2:30 PM
Knitting News!!
Knitting Trunk Shows for 2023!!
February 3rd -13th – Berroco Lanas
March 3rd – 13th – Berroco Pima Soft Cotton
April 14th – 24th – Berroco Isola
May 12th – 22nd – Berroco Remix
September 15th – 25th  – Lang Bold
October 13th – 23rd – Amano Yana XL
We will receive items knit in these yarns for you to see!
The trunk show purchase will be 20% off while that show is in town!
New Yarns and Accessories in stock!
Restocked Baby Vintage, Diamonte Baby (unique floral pattern), and Wizard!
New bright-colored Berroco Bergen (Alpaca/Nylon)
Knit one Crochet too! – Sebago (Superwash Merino)
Just In! 
Yana XL- Super Bulky (US 17 Needle) in Carolina Blue!!!
Bamboo Double Points!
ON SALE
Jody Long Coastline
Medium Weight Cotton Linen Blend
~
Ask about the Berroco DropShip Program
Direct to YOU!
Pay when Ordering – add $8 for Shipping
Are you skilled in Crochet and would love to teach others?
Join our Staff – Flexible hours / Part-time / Employee Discounts
Call the Store to Inquire or Email: yarns@yarnsofwilmington.com
Want to join your National / Local Needlepoint Guilds??
National Guild Membership
American Needlepoint Guild (ANG) : Link to join: 
Want to join your National & Local Knitting Guild??
National Guild Membership 
The Knitting Guild Association :  Link to join:  https://tkga.org/membership/
***See below for information from the local Wilmington Chapter – Cape Fear Knitters***
Cape Fear Knitters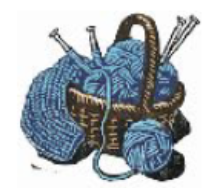 A local branch of The Knitting Guild
Association ( previously known as the Knitting Guild of America.)
Knitters of all skill levels and experience are welcome.
We meet every 3rd Saturday of the month at St. Paul's Episcopal Church between 10 am and 12 noon.
St. Paul's is located at 16 N. 16th Street in Wilmington, NC. The parking lot entrance is off of Princess Street.
Please enter the church through the RED doors to the left of the parking lot.
For more information contact Jill Corwin.
jcorwin320@gmail.com, 708-927-1940; voice or text
We are still offering contactless delivery to your car if needed.
**
Our Address is:
5751 Oleander Drive,  Unit #7
Wilmington, NC 28403
**
Happy Stitching & Knitting!
Your Friends @ YOW
(910) 791-2157
yarns@yarnsofwilmington.com