You haven't created any blog designer shortcode.
 Needlepoint Trunk Shows for 2023
April – Painted Pony – Stitch-Painted Show (will include Angels)
May 13th – June 3rd  -Susan Roberts / Liz Dillon
June – Melissa Shirley (This Show will be Virtual – more details will follow)
June – Trish Vine Designs – Canvas Keepers and Organizers
August – Kelly Clark with Embellishments
October – Canvasworks
November – Blue Ridge Stitchery
Knitting Trunk Shows for 2023
February 3rd -13th – Berroco Lanas
March 3rd – 13th – Berroco Pima Soft Cotton
April 14th – 24th – Berroco Isola
May 12th – 22nd – Berroco Remix
September 15th – 25th  – Lang Bold
October 13th – 23rd – Amano Yana XL
We will receive items knit in these yarns for you to see!
Want to join your National / Local Needlepoint Guilds??
National Guild Membership
American Needlepoint Guild (ANG) : Link to join: 
Want to join your National & Local Knitting Guild??
National Guild Membership 
The Knitting Guild Association :  Link to join:  https://tkga.org/membership/
***See below for information from the local Wilmington Chapter – Cape Fear Knitters***
Cape Fear Knitters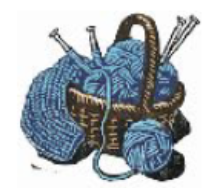 A local branch of The Knitting Guild
Association ( previously known as the Knitting Guild of America.)
Knitters of all skill levels and experience are welcome.
We meet every 3rd Saturday of the month at St. Paul's Episcopal Church between 10 am and 12 noon.
St. Paul's is located at 16 N. 16th Street in Wilmington, NC. The parking lot entrance is off of Princess Street.
Please enter the church through the RED doors to the left of the parking lot.
For more information contact Jill Corwin.
jcorwin320@gmail.com, 708-927-1940; voice or text